Ultrasonic animal repellers have been a craze among homeowners. It's perceived as an eco-friendly and mess-free solution to drive the pesky birds away. You just install it, turn it on, and let it do its job. With the right installation and placing, these repellers should discourage birds from landing on your lawn or property. But what is ultrasonic bird repeller and does it work?
ULTRASONIC
DEVICE
DEVICE BRAND
EXPERT
RATING
CHECK PRICE
Broox Upgraded Solar Animal Repellent

Check Price

ZOVENCHI Ultrasonic Animal Repellent

Check Price

Rodent Repellent Indoor Ultrasonic Pest Repeller

Check Price

Hoont Solar Powered Motion Activated Ultrasonic

Check Price

Wikomo Ultrasonic
Animal Repeller

Check Price
In this post, we will discuss these points together with ultrasonic repeller suggestions.
How ultrasonic repeller works
Ultrasonic repellers use high-pitch sounds that will irritate animals, including birds. Unlike sonic or mp3 bird scares, these devices produce ultrasonic sound that humans can't hear. This means that you can drive away birds without being a nuisance to your neighbors.
It can also affect rodents, squirrels, raccoons, and other pests. Take note, however, that if you have birds as pets and other smaller animals that can be affected by the sound, ultrasonic repellers may not be the right choice.
Most of these repellers are solar-powered while others are equipped with long-lasting batteries that need to be recharged once in a while. It's best to choose one that doesn't require frequent maintenance to ensure that your property is guarded against pest birds all day long.
So does it drive away birds? Yes, it could. However, the answer to this will also depend on the deterrent technology of individual devices. Make sure that the one you're going to purchase has been tried and tested to work outdoors. If you want to skip the hassle of scouting for the right model, we've picked five of the best options in the market.
Benefits of using ultrasonic repellent
There are many benefits to using ultrasonic repellents as long as you don't have pets that can be harmed by the sound. Here are some of the advantages of installing an ultrasonic repellent in your property.
✔️Eco-friendly
Instead of using deterrent gels and other chemicals to discourage the birds from nesting on your property, you can use ultrasonic devices instead. These are eco-friendly and won't ruin your yard as chemical solutions do.
✔️More humane than other solutions
Many homeowners use gel or paste deterrents, which, in turn, stick to the bird's feathers. This can affect their flight and possibly lead to death. And since some birds are protected by the law, it's best to use a humane solution for the bird problem.
The birds will be annoyed by the sound, but it will not harm them in any way.
✔️Long-lasting
Unlike owl statues and shiny tapes, ultrasonic repellers last long if maintained well. For solar-powered units, you barely have to do anything once it's installed. Just ensure that the repeller is waterproof and made for outdoor use.
What to look for when buying one
If you're planning to buy an ultrasonic bird repeller, it's best to look for the following features.
✔️Construction
Again, the ultrasonic repeller should be suitable for outdoor use. It means that the unit can endure rain, sunlight, and other outdoor elements.
✔️Deterrent technology
What kind of deterring power does the repeller have? Look for one that emits high-frequency sound with flashing lights. This won't just irritate the birds but also scare them away with the blinding beams.
Most outdoor ultrasonic repellers are motion-activated. Once a movement registers on its sensor, it will emit sound and engage the blinking light. It's best to place this on the spot with the least foot traffic so the sensor won't react on passers-by and other typical movements on your property.
✔️Covered pests
Check which pests the ultrasonic repellent blocks. Usually, it will drive away squirrels, deer, rodents, insects, birds, and raccoons. It's like hitting many birds with one stone if your place is mired with destructive stray animals.
✔️Power
When it comes to power, look for a solar-powered one. It recharges and works during the day then works on battery mode at night. This way, you no longer have to plug it in an electrical outlet or change batteries after a few weeks.
✔️Warranty
Of course, you wouldn't want to place your money on such a risk. Make sure that the seller allows a few days of warranty so you can see if the device works.
✔️Price
It's never a good idea to spend a whole fortune on an expensive ultrasonic deterrent. It's best to purchase an economical model and pair it with other inexpensive bird deterrents. That way, you drive the birds off your property without breaking the bank.
Tips for a more successful bird proofing
After purchasing the right ultrasonic repellent, you must use it properly. Here are some tips to increase the deterrent effect of the device.
✔️Use more deterrent methods
Aside from using an ultrasonic deterrent, you should also employ other methods like shiny discs, decoy predators, scare tape, chimney cowls, and more. This will complement with the ultrasonic device. Also, it provides variations to your scares. It will prevent birds, especially pigeons, from outgrowing the deterring effect.
✔️Install it before the bird season
Take note that you should install the ultrasonic device and other scares before the bird season. It's much easier to keep the birds away if they haven't grown accustomed to your property.
✔️Keep your property clean
As much as ultrasonic repellers work, some birds are bold enough to endure or evade its effects. Remove any bird attractants and possible food sources that may encourage the birds to land on your property.
✔️Check the device regularly
Ultrasonic repeller devices aren't a set-it-then-forget-it solution against birds. Once in a while, you should check if the parts are intact and if it's still working correctly. Solar-powered units may still need battery replacements once the old one corrodes over time.
✔️Install more than one device
If you have a large lawn, it's best to install more than one ultrasonic device to cover more ground. Spread it in different corners and spots in your yard where birds tend to flock.
TOP 5 ULTRASONIC BIRD REPELLERS
1. Broox 2023 Upgraded Solar Animal Repellent
Introducing the Broox 2023 Upgraded Solar Animal Repellent: An Effective Ultrasonic Pest Repeller
If you're in search of a reliable ultrasonic bird repeller, consider the Broox 2023 Upgraded Solar Animal Repellent. This device not only emits ultrasonic waves but also features flashing LED lights, effectively deterring birds and other animals. It's a versatile solution that keeps birds, rodents, badgers, skunks, foxes, squirrels, and other stray animals off your yard.
The best part is that you can customize the frequency and sensitivity settings, allowing you to target specific animals. Powered by solar energy, the Broox repeller automatically recharges under the sun, making it an eco-friendly choice. Moreover, its waterproof design ensures worry-free outdoor usage.
Equipped with an infrared sensor angled at 110 degrees, the Broox repeller boasts a detection range of 20 – 25 feet (6 to 8 meters), depending on the animal's size. It comes with an installation stake for easy setup. Position the device facing the area you want to protect from birds, taking into consideration its effects on cats and dogs. To deter foxes, it's essential to keep your pets away from the covered area.
The Broox 2023 Upgraded Solar Animal Repellent is a reliable and effective solution to maintain a bird-free and animal-free yard. Learn more about it on Amazon:
2. ZOVENCHI Ultrasonic Animal Repellent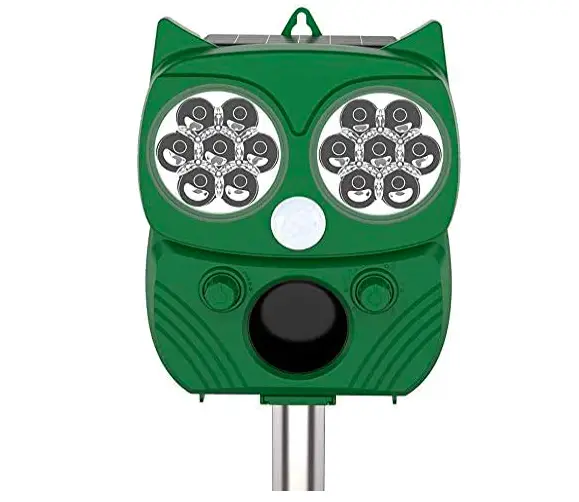 The ZOVENCHI Ultrasonic Device is also a solar-powered model with built-in, rechargeable batteries. You can use it on your own lawn, garden, walkways, and patio.
This model has a sensitive PIR motion sensor. When a movement registers to the device, it will trigger the ultrasonic sound and flashing LED lights. Like Broox, you can program the frequency and sensitivity of the device. In fact, you can tweak the settings to target 160 different animals. It includes birds, raccoons, deers, foxes, and more.
The Zovenchi device is waterproof and can endure snow, ice, rain, sunlight, and other outdoor elements. One device will cover as much as 1,600 sq. ft. with a 40 feet radius as well as a 120-degree angle.
What we find amusing about this ultrasonic device is its owl appearance. The external design may not directly scare the birds, but it's a decorative bonus for those with a garden.
Like the previous ultrasonic device, this comes with a mounting stake so you can place it anywhere in your yard.
PROS
✔️40 ft. radius coverage
✔️Solar-powered
✔️Programmable frequency and sensitivity
✔️PIR motion sensor
CONS
❌ The paint fades over time
3. Rodent Repellent Indoor Ultrasonic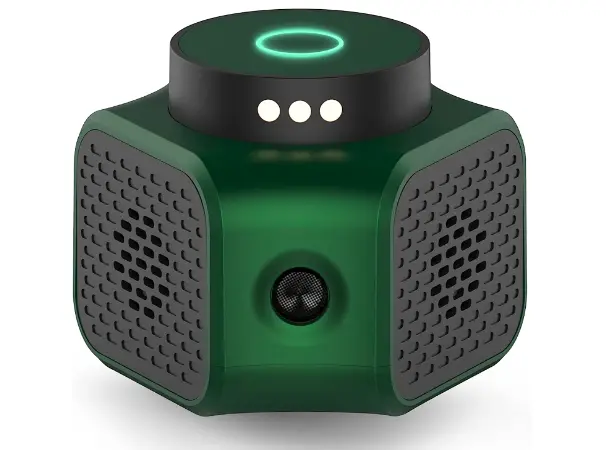 Wondering how the Ultrasonic Rodent Repellent Indoor works? This powerful device emits ultrasonic sounds and pulse waves that disrupt the brain systems of pests. Coupled with LED flashing lights, it causes extreme irritation to rodents and pests, making the area uncomfortable for them. As a result, they'll run away from your house, car, or RV.
Three effective targeting repel options: ULTRA, TRANS, and DUO. These special modes of ultrasonic wave and pulse wave effectively drive squirrels, mice, rats, bats, and pests away. Use the TEST mode to simulate sounds pests hear and check if the machine works.
Despite its mini size, the electronic mouse repellent device covers an indoor area of up to 1067 sq. ft. For maximum effectiveness, plug it in a space free of obstructions, as ultrasound cannot penetrate walls and solid objects. In severe pest-infested areas, use multiple units to increase coverage and efficiency.
Simple and maintenance-free operation: Just plug in the ultrasonic mouse repellent, and it starts working immediately. The repellent is durable and can withstand extreme heat and cold. A working indicator displays different rodent and pest control modes with Blue/Green/Blue-green lights.
Long-term pest deterrent process: Pests may be more active at the beginning of use, but after a prolonged period (up to a month), they'll start disappearing. To ensure continued effectiveness, keep the ultrasonic mouse repellent continuously plugged in.
Please note that this repeller may affect pets, so ensure your cats and dogs don't have access to the protected area. With the Ultrasonic Rodent Repellent Indoor, say goodbye to unwanted pests and enjoy a pest-free home environment.
PROS
✔️1067 sq. ft range
✔️ 3 x repelling options
✔️Ideal for indoor use
CONS
❌ No mounting stakes included in the package
4. Hoont Solar Powered Motion Activated Ultrasonic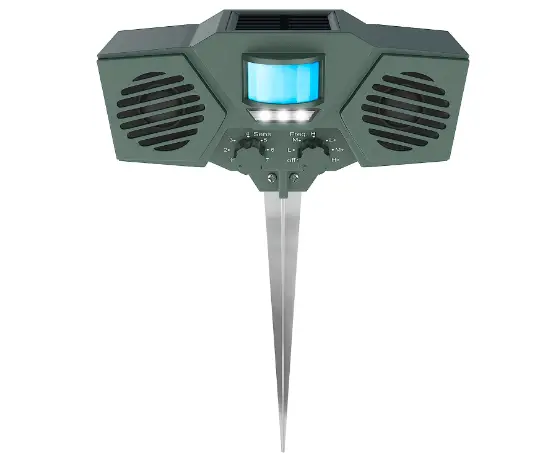 The Hoont Solar Powered Motion Activated Ultrasonic repeller uses powerful ultrasonic sounds and flashing LED strobes to scare away unwanted animals. It features three ultrasonic frequency settings and 7 sensitivity options for customization.
Easily install the repeller with the included stake and select your desired settings. The solar panels ensure continuous recharging under the sun's energy. The device's solid hard plastic construction withstands all weather conditions.
With a motion sensor covering 110 degrees at 8 meters, it's perfect for lawns, yards, and gardens. Note that the repeller engages only when detecting motion.
This solar-powered repeller keeps your property free from pests without harming them. No more dealing with dead animals or cleaning up messes. Invest in the Hoont Ultrasonic Repeller for a peaceful and pest-free environment.
PROS
✔️Solar-powered
✔️Can work continuously even under low battery
✔️Works at a distance of 8 meters
Wikomo Ultrasonic Animal Repeller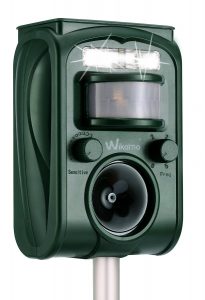 If you want a complete ultrasonic and sonic alarm, the Wikomo Repeller is the perfect device to use on your yard. It's equipped with the usual ultrasonic sound that you can tweak using the knobs. Also, it has a 120dB alarm which lets you know if an animal or person enters your yard. You can turn off this feature if you don't need it.
Aside from that, it has a PIR motion sensor that engages once a movement registers on the device.
This has a solid construction and an IP44 waterproof shell to endure outdoor elements. Aside from that, it comes with a 6-month money-back guarantee in case you're not happy with the results. Also, you're entitled to a one-year replacement policy.
During the rainy days, you can still use this repeller by charging it via the USB cable.
PROS
✔️Strong alarm and ultrasonic sound
✔️Solar-powered
✔️6-month money-back guarantee
✔️1-year replacement policy
CONS
❌Has to be charged manually to work at night and rainy days
Final words
So you wonder, "What is ultrasonic bird repeller does it work?" We hope that we answered this query in this post. Ultrasonic repellers are excellent bird proofing devices. Still, you should pair it with other methods to ensure that your property will be free of pesky birds.